Undergraduate Program
Studying economics will help you understand the common challenges we all face and find success in acheiving your own career goals.
BA/BS Economics
A major in economics prepares you for a successful career in academia, private business, government and non-governmental organizations, and multilateral institutions. Economics studies societal production and distribution of goods and services.
Economics directly addresses many political and social issues debated today such as:
How deeply should the national economy be integrated into a global economy?
Is continued economic growth sustainable in light of climate change?
What is the relationship between global integration and rising income inequality?
How does Economics impact households, generations, genders, and ethnic groups?
How has the labor market changed in recent decades?
What are the economic effects of rising income inequality?
Economists study these questions with theoretical models, empirical methods (statistics, econometrics), and historical analyses. At the University of Utah, a major in economics is exposed to all of these methods through core theory classes, rigorous quantitative requirements, and electives in a wide variety of fields. As a graduate of our program, students will hone skills in critical and analytical thinking, writing, and acquire a state-of-the-art knowledge in the discipline.
Questions? Reach out to:
Norm Waitzman, Chair
Rudi von Arnim, Director of Undergraduate Studies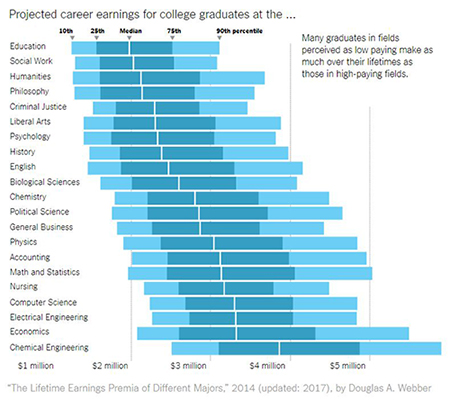 Six Myths About Choosing a College Major - NY Times
In projected lifetime earnings economics majors rank second trailing just behind chemical engineering and surpassing electrical engineering, computer science, nursing and more.